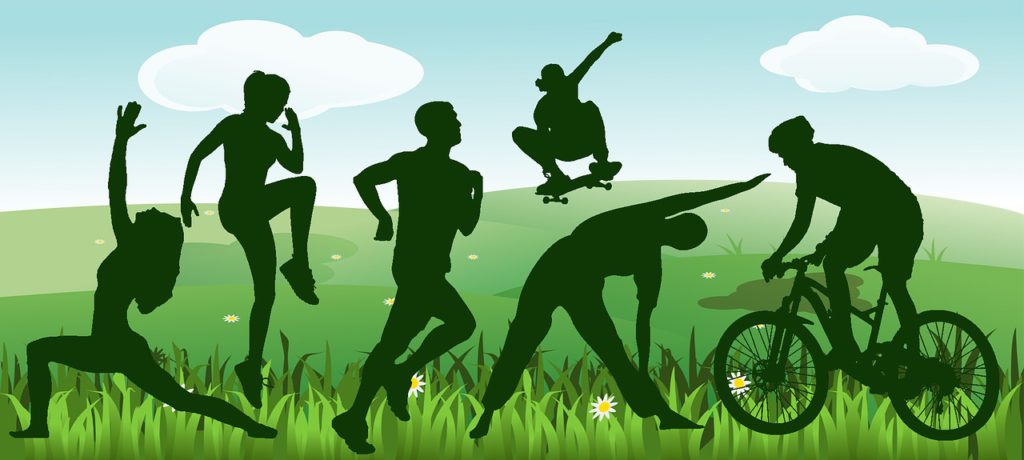 Getting fit seems like a scary and impossible task, doesn't it? It's like all those people were born with 6-pack abs, have always been able to swim across a lake in 5 minutes, and are always full of energy. The trick is in starting with activities that you can do and gradually work your way up. To that end, I have compiled a list of seven activities outdoors that you can enjoy on your journey to fitness or just as a casual hobby.
Swimming
Swimming is awesome! It works all your muscles, burns fat, and you don't even feel like you are doing something difficult. Regular swimming, or even just frolicking in the pool or at the beach is enough to improve your heart and lungs and give you more energy for other stuff you want to do.
Walks And Hikes
This one's for beginners, but it is also deceptive. You may think that hiking is just walking and you have walked all your life, so what's the big deal? Beginner hiking trails are between 5 and 10 miles, but they go up and down the hills at a pace that the group is most comfortable with, so even athletes that have focused on other items of fitness sometimes struggle. Start with longer walks. They can also be some quality time you spend with your friends, loved ones, and pets.

Cycling
If walking and hiking are a bit too slow for you and you want the scenery to change more quickly while not trying too hard, you can try cycling. Your heart is going to act as if you're on a walk while you are riding casually and you can use it as a way of getting around. It's a good starting point for those that wish they were more physically active.
Games
There are plenty of games that you can play outdoors. Try basketball with your friends once a week. The same goes for football, cricket, baseball, whatever. You won't feel the chore of working out and you get to socialize with your mates. It's two for the price of one. Just choose a game where you can handle the pace.
Jogging
It's one of the go-to solutions for those that are trying to get back into shape. It works if you have free mornings, afternoons, or nights. Start with a few hundred yards and work your way up. Before you know it, it will be a great way for you to clear and cool your head. It's great for interpersonal relationships and work ethic. In terms of physical activities suitable for beginners, few can compare with jogging in terms of me-time.

Martial Arts
Martial arts are great for the outdoors. The issue is finding a club that is going their practice outside. Luckily, many of them do this in the summer as a combination of free marketing and the benefits of the sun and fresh air. Every worthwhile club takes it easy on beginners as all their members were beginners once. Martial arts are not just sports. They are also monuments to culture, way of thinking, and philosophy of life. Besides, learning a little self-defence while enjoying the outdoors? Priceless.
Yoga, Tai chi, And Similar
Tai chi is a martial art and a way of life, but, in modern times, it is used as a way to improve one's health through gradual exercises and breathing techniques. This is why you will often find seniors practicing either tai chi or yoga in public parks and other places. Join in on a session or two and you'll see some techniques to improve your mood and flexibility.